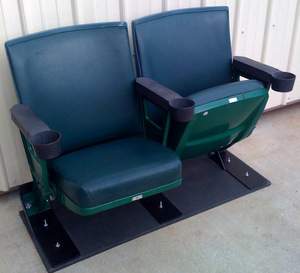 TROY, IN (PRWEB) June 16, 2009 – St. Louis Cardinals fans and Major League Baseball collectors now have an opportunity to own a rare piece of Busch Stadium history. S&S Seating today announced that they are making a limited number of memorabilia Busch Stadium 'Cardinals Club' box seats available for purchase to the general public. S&S Seating removed the collectible memorabilia stadium seats from Busch Stadium following the 2005 season.
'Cardinals Club' box seats were the green padded seats directly behind home plate on the field level of old Busch Stadium in sections 1-10. Cardinals Club box seats were not made available to the general public during the 2005 auction. S&S Seating has a limited supply available for purchase. Seats are available on a first-come, first-serve basis at the S&S Seating website:
www.stadiumseating.net/memorabilia/collectible
, and all memorabilia seats come with a certificate of authenticity.
In addition to the Cardinals Club seats, S&S Seating also has the following memorabilia seats available from old Busch Stadium: green 'Dugout Club' seats, generic red seats, and 45" sections of bleacher seats.
Busch Stadium was the home of MLB's St. Louis Cardinals (1966-2005) and the NFL's St. Louis Cardinals (1966-1987) and St. Louis Rams (1995). Busch Stadium's 96-arch "Crown of Arches" echoed the iconic Gateway Arch, which was completed only one year before the opening of Busch Stadium. Opened on May 12, 1966, Busch Stadium hosted six World Series in 1967, 1968, 1982, 1985, 1987 & 2004. Busch Stadium was also the site of Mark McGwire's historic 62nd home run of the 1998 season, which broke Roger Maris' single season record. The final Cardinals game played at Busch Stadium was October 19, 2005. Fans that missed their chance in 2005 can now buy their very own Busch Stadium seats.
"This is a unique opportunity for Cardinals fans to own a rare piece of old Busch Stadium history, Cardinals Club box seats," said David Sprinkle, Vice President of S&S Seating. "These seats were professionally removed from old Busch Stadium and have been stored in our warehouse since 2005. The memorabilia seats are in excellent condition and are the perfect gift for any Cardinals fan or baseball memorabilia collector."
About S&S Seating: S&S Seating has been family owned and operated since 1996. In addition to offering memorabilia Busch Stadium seats, S&S Seating also specializes in the removal and distribution of memorabilia from professional NFL & MLB stadiums, as well as offering used & refurbished chair-back seating to high schools and colleges looking to upgrade their concrete stadiums.
Additional information on S&S Seating's services can be found online at www.stadiumseating.net.