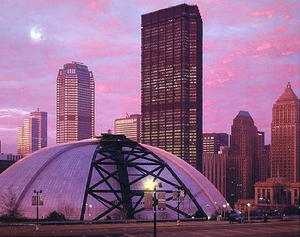 Troy, IN (PRWEB) November 10th, 2010 – S&S Seating, Inc. is heading to the Igloo in Pittsburgh, PA. S&S Seating has been contracted to remove and distribute the historic Civic Arena seat pairs being sold to Pittsburg Penguins fans and collectors.

Seat pairs are available for purchase exclusively online at www.iglooseats.com with general public sales beginning December 1st, 2010.
Fans and collectors worldwide will be able to purchase historic Pittsburg Penguins Igloo seating for $495 per pair (plus $120 shipping cost). The limited inventory of seating will be sold on a first-come, first-served basis. Each seat pair will include a Certificate of Authenticity.
Customers can't select specific seats but can choose orange, red, black or blue seats from the 49-year-old arena, which Consol Energy Center replaced this summer. The season-ticket holder pre-sale ends November 30, and the general public can buy seats online from December 1 to December 24.
There are 4,800 pairs of seats available. An additional 4,300 "special commemorative" single seats, emblazoned with Penguins logos and plaques commemorating the years the arena was open, will go on sale Dec. 1.
About S&S Seating:
S&S Seating has been family owned and operated since 1996. In addition to memorabilia seat removal and distribution, S&S Seating also offers refurbished chair-back seating to high schools and colleges to upgrade their facilities. Additional information on S&S Seating's services can be found online at www.stadiumseating.net.
Contact:
S&S Seating, Inc.