09/01/2008 12:01 AM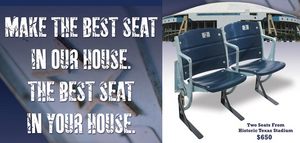 S&S Seating Signs Contract for Historic Texas Stadium Seat Removal and Distribution.

S&S Seating, in partnership with Archer Seating, has been contracted by the Dallas Cowboys to remove and distribute the memorabilia stadium seats from historic Texas Stadium.


Troy, IN (PRWEB) September 1st, 2008 –
S&S Seating
today announced that they have been contracted by the Dallas Cowboys to remove and distribute the historic Texas Stadium seat pairs being sold to fans and collectors. General public sales begin on September 5th, 2008.
S&S Seating will begin removing the Texas Stadium seats in the days following the last home game of the 2008 Cowboys Football season, playoff game(s) included. S&S Seating will ship out the pre-sold seat pairs 30-60 days after the last home game. All seats will leave the stadium unrestored in 'as is' condition.
Seat pairs are available for purchase exclusively online at
www.dallascowboys.com/seats
, with general public sales beginning September 5th, 2008. Fans and collectors worldwide will be able to purchase historic Texas Stadium seating for $650 per pair (price includes shipping costs). The limited inventory of seating will be sold on a first-come, first-served basis. Each seat pair will include a Certificate of Authenticity.
"Cowboys fans have a unique opportunity to own a piece of history," said Dale Sprinkle, President of S&S Seating. "We are thrilled to partner with the Dallas Cowboy organization on this stadium seat project, and are honored to provide our expertise to ensure each seat pair is professionally removed and shipped."
S&S Seating has been family owned and operated since 1996. In addition to memorabilia seat removal and distribution, S&S Seating also offers refurbished seating to high schools and colleges to upgrade their cement stadiums. Additional information on S&S Seating services can be found online at
www.stadiumseating.net
.
|
Back to index...