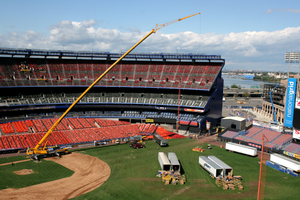 FLUSHING, NY (PRWEB) October 10
th
, 2008 –
S&S Seating
today announced that they have completed the stadium seat removal process at Shea Stadium. S&S Seating, in partnership with Archer Seating, began removing the Shea Stadium seats the day after the Mets' final home game on September 29
th
, 2008, and completed the removal process on schedule.
S&S Seating has been contracted by the New York Mets and the City of New York to remove and distribute the Shea Stadium seat pairs being sold to fans and collectors. The metal seat frames, which date back to Shea's opening season in 1964, will be stripped and repainted in their original color to meet standards for indoor use. The plastic seat and chair-back, which has been in use since 1980, will remain as is. S&S Seating will ship out the pre-sold seat pairs within 6-12 weeks.
Seat pairs are still available for purchase exclusively online at
www.mets.com/shea
. Red and Green seats are available on a first-come, first-serve basis. The Orange and Blue seats have been sold out. Each seat pair has been authenticated by Major League Baseball's Authentication Program and affixed with a tamper-proof hologram displaying a unique identification number.
"The seat removal process in Shea Stadium was a huge success," said Dale Sprinkle, President of S&S Seating. "We appreciate all of the help from the local unions involved in this project, and look forward to shipping out the seat pairs once the metal frames have been reconditioned."
About S&S Seating:
S&S Seating has been family owned and operated since 1996. In addition to memorabilia seat removal and distribution, S&S Seating also offers refurbished chair-back seating to high schools and colleges to upgrade their concrete stadiums. Additional information on S&S Seating services can be found online at
www.stadiumseating.net
.