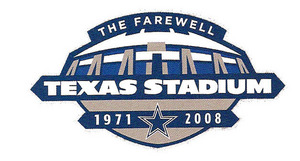 Troy, IN (PRWEB) December 11
th
, 2008 –
S&S Seating, Inc.
is preparing for the end of the NFL season. Whether or not the Cowboys make the playoffs, S&S Seating will be ready to begin the seat removal process. S&S Seating, in partnership with Archer Seating, has been contracted to remove and distribute the historic Texas Stadium seat pairs being sold to fans and collectors.
S&S Seating will begin removing the Texas Stadium seats in the days following the last home game of the 2008 Cowboys Football season, playoff game(s) included. S&S Seating will ship out the pre-sold seat pairs 30-60 days after the last home game. All seats will leave the stadium unrestored in 'as is' condition.
Seat pairs are available for purchase exclusively online at
www.dallascowboys.com/seats
, with general public sales beginning September 5
th
, 2008. Fans and collectors worldwide will be able to purchase historic Texas Stadium seating for $650 per pair (price includes shipping costs). The limited inventory of seating will be sold on a first-come, first-served basis. Each seat pair will include a Certificate of Authenticity.
About S&S Seating:
S&S Seating has been family owned and operated since 1996. In addition to memorabilia seat removal and distribution, S&S Seating also offers refurbished chair-back seating to high schools and colleges to upgrade their cement stadiums. Additional information on S&S Seating services can be found online at
www.stadiumseating.net
.
Contact:
S&S Seating, Inc.
###